We've all been there. At one time or another, we've received mail addressed to "current resident" and immediately flagged it as junk mail destined for the recycling bin. However, what about a piece that's personally addressed or that has a personalized message? Chances are that may capture and hold your attention.
That's just part of the power of variable data printing.
Simply defined, variable data printing is a form of printing in which elements including text, graphics and images can be changed from one piece to the next by using information from a database or external file.
Mellady Direct Marketing has found great success in incorporating variable data printing into our printing and mailing projects. For example, a high-end jewelry store's postcard mailing might include the recipient's name splashed across the front of the card with a special offer. Or a newsletter mailing might include a personalized greeting to the addressed recipient.
By segmenting your mailing list, it's also possible to develop and print multiple targeted messages for your direct mail pieces, stretching your marketing budget even further. Additionally, the flexibility of variable data printing allows you to print text in a range of fonts to complement your branding.
The statistics show that variable data printing can help drive business. For instance, a restaurant franchise that used variable data printing for a mailed postcard printed with a unique website URL saw a 27 percent customer response, according to a 2010 report by the Print on Demand Institute (PODi). Similarly, PODi reported that a credit union used a variable data postcard campaign to drive $1 million in loan activity and achieve a return on investment of more than 2,700 percent for the first year of interest income.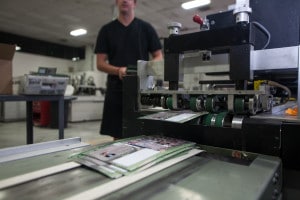 Using variable data printing also allows you to establish a personal connection with consumers from the get-go. For example, another area in which we've seen its strength is with annual nonprofit fundraising appeal campaigns. By beginning an emotionally appealing letter with someone's name instead of a generic "Dear Friend" greeting, a personal connection is established right away.
Utilizing variable data printing helps saves time on projects by automating processes. For example, in the past a project such as printing and mailing a newsletter meant printing the pieces, letting them fully dry and flatten, then inkjetting the addresses to prepare the order for mailing. Advances in high-speed digital printing technology now allow us to print the addresses at the same time we're printing the publication, saving time and helping us get clients' projects in the mail even more quickly.
In short, when used correctly by an expert, variable data printing is a powerful tool that can elevate your brand reception and make the most of your marketing dollars.
Are you interested in how variable data printing can benefit your business? With nearly 30 years of expertise in printing and mailing, Mellady Direct Marketing can help you. Contact us today to find out how we can take your marketing to the next level.