One of the reasons direct mail has such great success is that recipients like holding printed pieces in their hands. There's just something about physically holding printed material, and poring over the details in a way that's totally different from viewing graphics on a screen.
In our more than 30 years of printing and mailing experience, we've found this to be true time and again, and this finding is repeatedly confirmed by organizations like the Direct Marketing Association, whose research concludes the tactile nature of direct mail is a key to its success.
With this in mind, we've identified a few easy ways to elevate mail pieces to stand out and have a great impact on recipients.
Choose the Right Materials
To steal a phrase from the cotton industry, there's something about "the touch, the feel of paper." You can easily elevate your mail piece from so-so to outstanding simply by choosing from a variety of different paper stocks.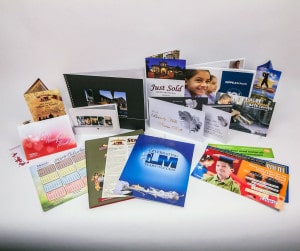 For example, are you sending a mailer targeting high-end home buyers? Consider a heavier weight paper with a "soft-touch" or "silk" coating. Or perhaps you're sending an event invitation that could benefit from a heavyweight paper with gold foil printing. You might think these types of options are out of your price range, but the truth is that with advances in printing technology it's possible to send out mail pieces that have the look of luxury without breaking the bank.
By choosing the right materials, you can help your piece make a great first impression instead of getting lost in a stack of mail.
Try a Different Size
When you hear "postcard" do you think of a small 4×6" piece? Think again. Such a small mailer doesn't stand out as well as the 5 ½ x 8 ½" postcards that are among our most frequently mailed sizes. With an eye-catching design and strong call to action, a larger postcard stands out in a stack of mail and gets the attention of your target audience.
But why not go a step further? For example, several of our real estate clients have seen great success with mailing jumbo 8 ½ x 11" postcards, designed to really make an impact when they show up in the mailbox.
Size affects more than how your piece is received, however. Adjusting the size of your mail piece by even small fractions of an inch can drastically reduce postage prices. If you're sending thousands of postcards, you can see how those savings can quickly add up. Here at Mellady Direct, by handling design, printing and mailing in-house we're able to work closely with our clients and save them money.
Get Personal with Variable Data Direct Mail
Why just send your mailer to "Current Resident" when you can actually add a personal touch to your mailings? Variable data printing provides a variety of ways to capture recipients' attention, including text, graphics and images that can be changed from one piece to the next by using information from a database and segmented mailing list. (Click here to read an article on how variable data printing can help drive your business.)
When done correctly, direct mail is a successful, cost-effective way to reach your target audience, and by taking just a few extra steps you can ensure your mailer stands out from the crowd.
Are you ready to elevate your mailing campaign? Mellady Direct Marketing has more than 30 years of experience and we are here to help you. Click here to contact us today.